There are plenty of ancient temples around Penang, which are not only grand in appearance, but also in history. Discover these significant monuments of the past such as the Khoo Kongsi temple, a grand clan temple built in 1898, the Kuan Yin Temple, which was built in 1800 by early Chinese immigrants, the Kek Lok Si temple, which has scenic gardens and ponds with turtles, and the Snake Temple, which is home to hundreds of slithery, exotic reptiles.
Wat Chaiya Mangkalaram Temple
Wat Chaiya Mangkalaram Temple is the largest Thai temple in Penang. Set just off Jalan Burma (on the way to Batu Ferringhi), the yellow-and-blue temple is also known as Wat Buppharam. Built in 1845, it is home to a 108ft-long reclining Buddha image, said to be the third largest in the world.
Draped in a gold-leafed saffron robe, the sprawling statue was erected as a monument to signify Buddha's final resting position at his death and symbolizes his detachment from worldly matters. Located opposite the less extravagant Dharmmikarama Temple (which lights up beautifully at night) Wat Chaiya Mangakalaram Temple is a beautiful sight with ornate, gold pagodas, and mural-painted walls.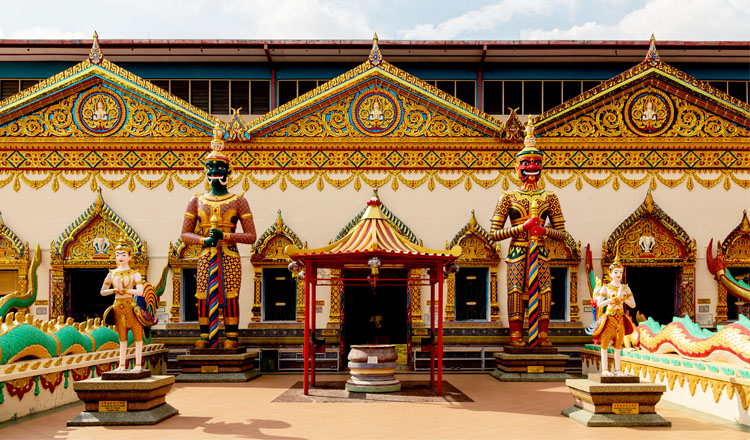 Dharmikarama Burmese Temple
Dharmikarama Burmese Temple is the only Burmese Buddhist temple outside Myanmar. Located in Georgetown Penang, it stands opposite Wat Chayamangkalaram Temple, with a pair of large stone elephants flanking the front gates. Inside the pagoda grounds is a Boddhi tree, a wishing pond and apartments for monks.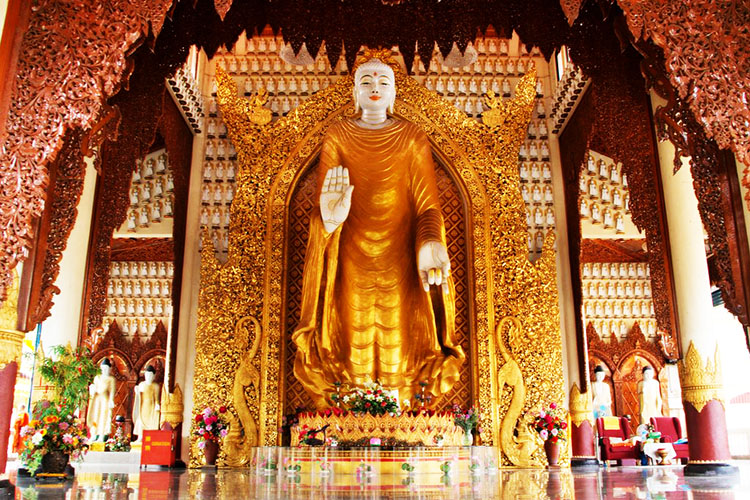 Devotees have contributed many statues of Buddha, so his serene-faced image can be found at almost every corner in different meditation poses. The walkways have a series of panels with beautiful murals depicting scenes of the journey of Prince Siddharta (dressed in typical Burmese fashion) achieving Nirvana and becoming Buddha.
Kuan Yin Temple
Kuan Yin Temple is Penang's oldest temple. Built in 1728, it is set on Jalan Masjid Kapitan Keling (previously known as Pitt Street) and was constructed by early immigrant settlers from China. Upon completion, the temple was one of the most magnificent Chinese-style structures in northern Malaysia.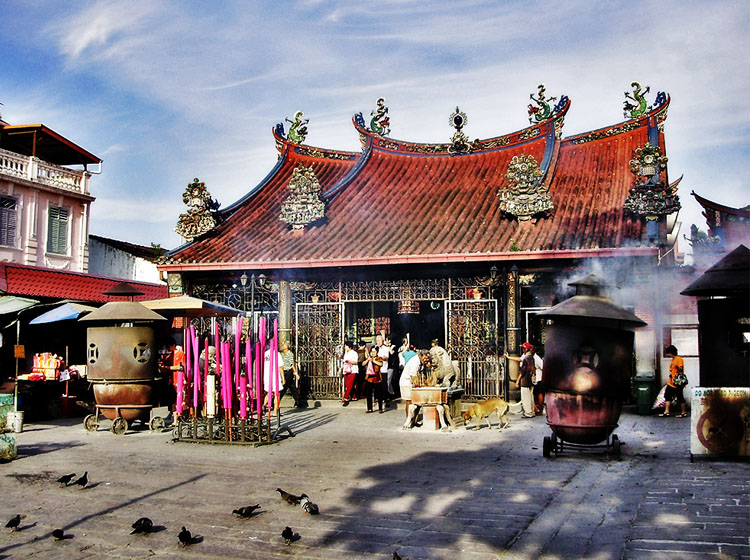 Erected at the cost of 4,000 Spanish dollars, a princely sum at the time, it was built in honour of the Chinese Goddess of Mercy, Kuan Yin. Older than the kongsis (clan houses) of Penang, it was originally used not only for religious but also for social functions within the Chinese community. Kuan Yin Temple was originally named Kong Hock Keong temple (Cantonese-Hokkien Temple).

Malay Mosque
This well-known mosque, also called Masjid Melayu (Malay Mosque), is located on the southern end of George Town, on Lebuh Acheh. A witness to a once glorious past, the Acheh Street Mosque is aesthetically pleasing. Its structure reflects a strong Moorish (northern Indian) architecture, combined with Chinese and classical elements visible in the entrance arch, the small domes on the parapet, classical columns, plaster renderings upon the walls and mehrab. And Egyptian style minarets.
Next to the mosque lay the cemetery of the mosque's original benefactor, Tengku Syed Hussain Al-Aidid and members of his family. The houses surrounding the mosque today is part of the original Muslim settlement of the mid 19th century.
Another interesting mosque in Georgetown area that are open to visitors is the the Kapitan Keling Mosque.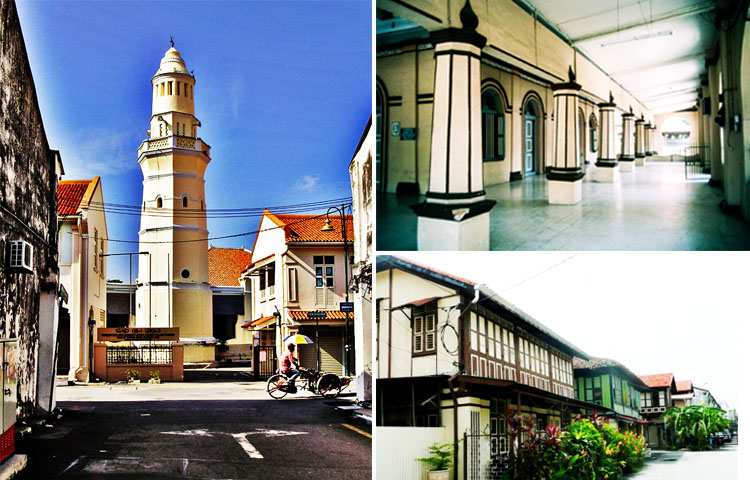 Sri Mariamman Temple
Sri Mariamman Temple is a Hindu temple set on Lebuh Queen and Lebuh Chulia in Georgetown's compact Little India district: a vibrant community whose outer face is of saris, incense shops and banana leaf curry houses. Built in 1833, the temple is dedicated to the Hindu god, Lord Subramaniam.
Also known as the Arulmigu Sri Mahamariamman Temple or Queen Street Indian Temple, it is the oldest Hindu temple on the island. Shining diamonds and precious stones are part of its façade and it is a typical example of Hindu architecture, built in the south Indian Dravidian style.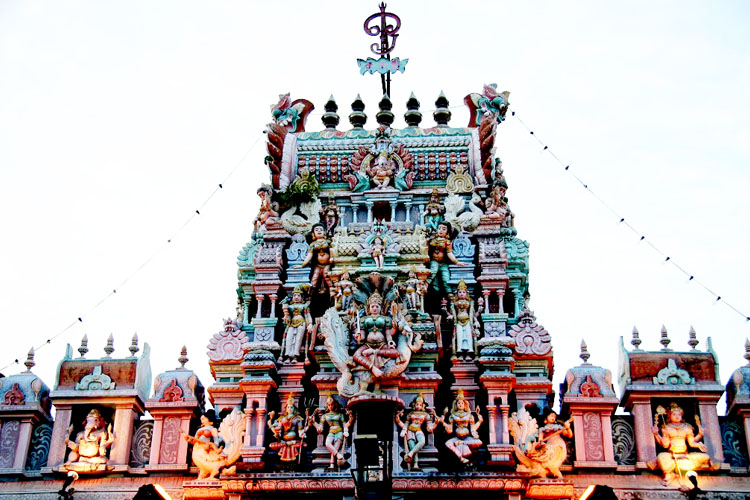 St. George's Church
St. George's Church is set next door to the Penang State Museum & Art Gallery. Built in 1817 by the East India Company using convict labour, it is Southeast Asia's oldest Anglican church and one of the oldest buildings in Penang. The architecture and design is largely Greek and relatively unpretentious.
The gracefully proportioned building was designed by Captain Robert Smith (a military engineer) whose beautiful oil paintings still hang in the Penang State Museum. The interior is a cool pastel blue with marble floors and outside the main building on the church grounds is a memorial to Sir Francis Light in the form of a Greek temple – an elegant pavilion with definite Victorian style to it. It was built in 1886 on the centenary of the founding of Penang; just down the road is the double-spired Cathedral of the Assumption.

Original Story:
penang.ws/penang-attractions/wat-chaiya.htm
commons.wikimedia.org
madisonvelocity.blogspot.com
penang.ws/penang-attractions/dharmikarama.htm
panoramio.com/photo/3094943
penang.ws/penang-attractions/kuan-yin-temple.htm
eveandersson.com
travel2penang.wordpress.com
penangmonthly.com
penang.ws/penang-attractions/sri-mariamman-temple.htm
panoramio.com/photo/67132964
penang.ws/penang-attractions/st-georges-church.htm
georgetown-penang.com
penang-online.com/pages/place-of-interest/acheen-street-malay-mosque.php
penang-traveltips.comacheen-street-mosque.htm
travel-penang-malaysia.com
mimbarkata.blogspot.com
travel2penang.wordpress.com