Penang cuisine is the cuisine of the multicultural society of Penang, Malaysia. Most of these cuisine are sold at road-side stalls, known as "hawker food". Penang has the reputation as being the "food paradise" in the region as it offers an diverse and exotic mix of Malay, Chinese and Indian cuisine, which reflects the multicultural mix of the city. It is popular among locals and tourists alike. Local Penangites mostly find these hawker fares cheaper and easier to eat out at any time of the day due to the ubiquitousness of the hawker stalls all around Penang island. On 22 February 2013, Penang was ranked by CNN Travel as one of the top ten street food cities in Asia. Penang has also been voted by Lonely Planet as the top culinary destination in 2014.
Made from coffee beans specially roasted with palm oil margarine, Penang white coffee is arguably Penang's most famous export, and the drink is endemic to the Penang White Coffee.
Hokkien Mee
For a bowl of comfort and hearty goodness Hokkien Mee, or Prawn Mee as it is known outside Penang, makes a perfect meal anytime, be itfor breakfast, kunch, diner, or supper.This dish of yellow noodles and rice vermicelli drenched in a thick spicy broth made of both prwans and pork is served with a garnish of water spinach (kankung) and crunchy bean sprouts. The Hokkien Mee is finished off with a few slices of lean pork, boiled egg, prwans and sprinkle of fragrant fried shallots. To add more depth to the already hot bowl of Hokkien Mee, a healthy spoonful of fried chilli paste is served along with the dish. What makes this dish interesting is that its spicy, storng prawn flavour actually lends a slight sweetness to the deliciously fragrant bowl of Hokkien Mee.

Char Koay Teow
The ever fragrant, garlicky and rich Penang Char Koay Teow holds a revered place in the hearts of foodies all over Malaysia. Around the world you can find Char Koay Teow eateries bearing the title "Penang Char Koay" in hopes of trying to woo in customers based in the promise of a morsel of Penang's famous street food. The secret gehind a plate of heavenly Char koay Teow relies on thr heat of the wok: the higher the heat, the tastier the koay teow. The flat rice noodles are fried in an iron cast wok over very high heat to be able to achieve a slightly charred and smoky aroma. Oil is added into the wok followed by a small amount of minced garlic and fresh prawns. Noodles are added in, followed by a dash of seasoned soy sauce, bean sprouts, egg and chives. The last ingredient is the cockies. Some outltes include crunchy bits of lard and slices of pork sausage in their Char Kaoy Teow, so look out for the halal sign before making your order.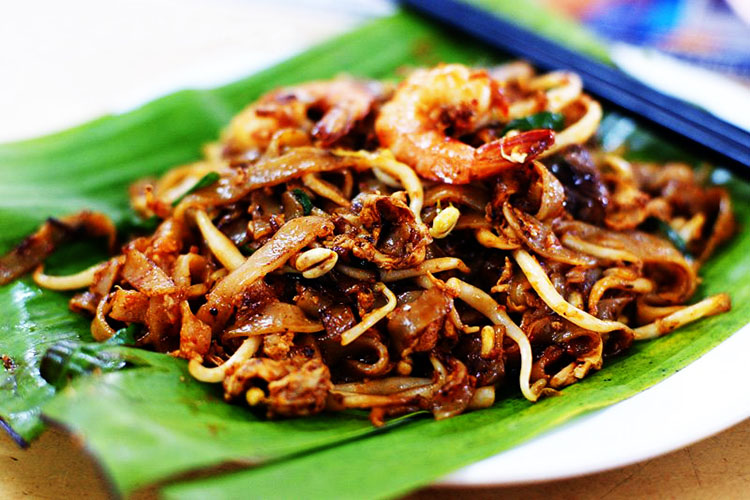 Chee Cheong Fun
Chee Cheong Fun is made of rice flour that is steamed and rolled up to about 10cm long, hand-sliced and served with a mixture of chilli paste, shrimp paste (called hae ko), a reddish sweet souce and sprinkled with roasted sesame seeds. Chee Cheong Fun has a sweet and slightly spicy shrimp flavour, while the texture of the noodles is smooth, making it an excellent base for the savoury sauce. In fact, it is the shrimp paste that most customers come for as the black and smooth paste made from prawm stock and salt has a strong, tasty fishy flavour without the longering fishy smell in your mouth. Penang's shrimp paste is the most sought-after as the state produces the best shrimp paste in the market.

Ais Kacang
This sweet and refreshing dessert made with shaved ice makes it perfect on a hot sunny day, especially when you add a generous scoop of ice cream. The art of making a perfect bowl of ais kacang has not changed for generations – fill a bowl with finely shaved ice topped with sweetened red bean,creamed sweet corn,attap chee (palm fruit), strips of dried butmeg as well as colourful jellies drenched in palm sugar syrup,sarsi and rose syrup. For a finishing touch, drizzle liberal amounts of rich evaporated milk and you are ready yo sink into a bowl of icy goodness. Other popular toppings include fresh or canned fruit,peanuts and raisins.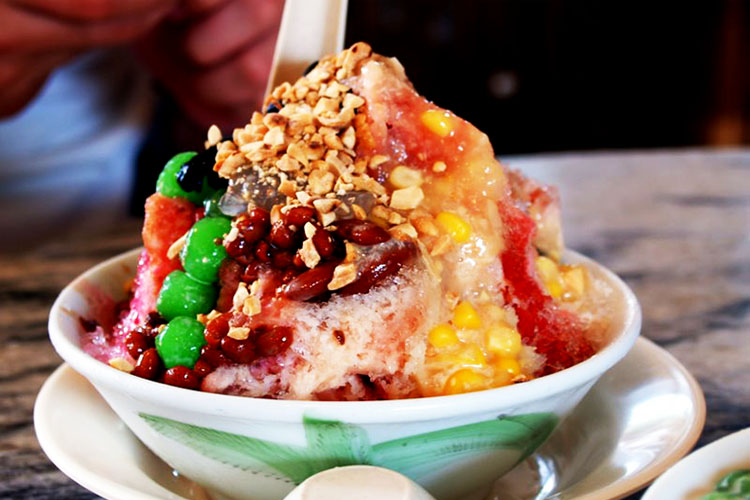 Original Story:
en.wikipedia.org/wiki/Penang_cuisine
amazingworlddestinations.com
blog.sina.com.cn
eatzasmallworld.blogspot.com
wuapunyablog.blogspot.com
breadetbutter.wordpress.com
jeromefoch.blogspot.com
rwsentosablog.com
travelthrutime.wordpress.com
cookingcrave.blogspot.com